Terrrrific! That was Jack Shea's response each time I walked into the Pro Shop and asked how he was doing. Terrific also describes the wonderful day that more than 50 golfers had on Sat. Oct. 15 while playing in the inaugural 2016 Jack Shea Memorial Scholarship Scramble.
Teams of all configurations – 4, 5, 6 players, members and non-members, all women, all men and mixed – challenged the course under increasingly beautiful skies. Afterward, we enjoyed a barbecue which included some of Jack's favorite Carl Teschke dishes: coleslaw, potato salad, and of course, brownies.  Jack's niece, Shawn Durocher, and his sister, Kathleen Weatherwax, were able to join us for the afternoon.  Kathleen drew the name of Susan Plante in the 50/50 raffle, and in the spirit of the day, Susan contributed her winnings to the scholarship fund.  In total, more than $1,000 were raised to support the mission of the Jack Shea Memorial Scholarship, i.e., provide monies to junior golfers to participate in the Golf for Kids program and junior memberships.
On behalf of the Board of Directors, I would like to thank everyone who helped organize and who participated in this very special event. It was our pleasure and honor to know and work with Jack and we look forward to the 2017 Jack Shea Memorial Scholarship Scramble.  I'm sure it will be terrrrific!
Thanks to all,
Jean Gowdey
Scoreboard from the scramble: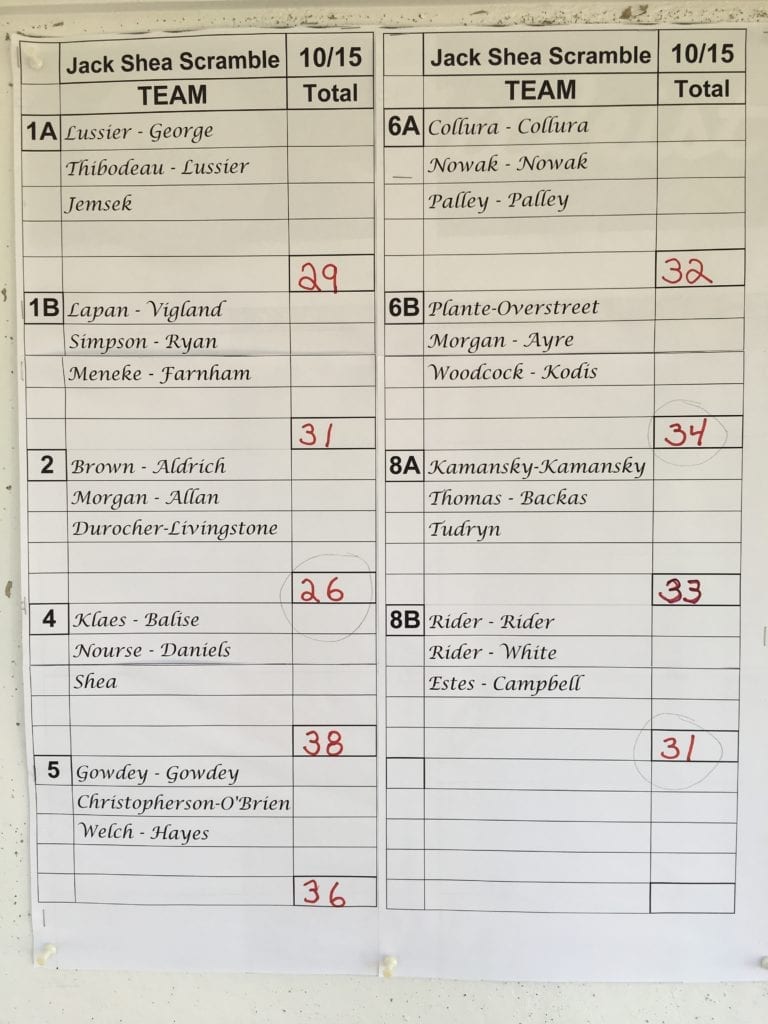 Memory board created by Jack's great nieces: