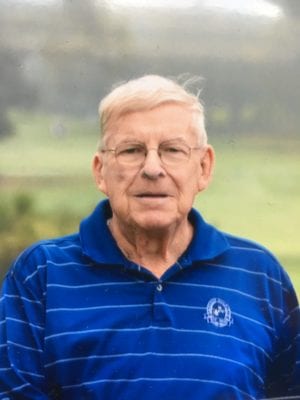 John E. Shea, or Jack as he was affectionately known, passed away on July 30, 2016, in Northampton, Ma. He was born in Holyoke, Ma. in 1935, the son of John H. Shea and Mary Winifred Maher Shea. He was a graduate of Au Sable Forks High School, in Au Sable Forks, N.Y. and St. Michael's College in Colchester, Vt. in 1956. Upon graduation he served in the US Army for two years. He then worked construction on the missile bases in the Adirondacks.  He was employed at Hamilton Standard in Windsor Locks, Ct. for 24 years.  After his retirement from Hamilton Standard he began working at the Amherst Golf Club in the Pro Shop in 1990. He was still employed there at the time of his death.
He led a very full life, spending time between the Adirondacks (Au Sable Forks, N.Y.) and Amherst, Massachusetts. Living in the Adirondacks instilled in him a love of winter sports, particularly bobsledding. He spent many weekends bobsledding at the Olympic run in Lake Placid. As a young boy living in Amherst he learned the game of golf playing with his dad at the Amherst Golf Club. He became quite an accomplished golfer, amassing many trophies though the years.   In later years he wrote a history of the Amherst Golf Club for their centennial celebration in 2000. As a result of this, he developed a keen interest in researching and writing about many of the activities associated with his life in the Adirondacks, including research into local bobsledders, history of the Indole Golf Club, where he had also been a member, and the Fireman's Softball league.
He is survived by his sisters, Jane Chalmers and husband Tom, of Lady Lake, Fl. and Kathleen Weatherwax and husband Don of Amherst. Also surviving are his nieces Karen Carey–Agustin and husband Lorenzo of Amherst, Shawn Durocher and her husband Richard of Princeton, Ma. One nephew Brian Chalmers of Carlisle, Pa. Predeceasing him was his nephew Thomas Chalmers also of Amherst. In addition, he is survived by 5 great nieces and nephews, Justin Carey, Jameson Carey, Ava Carey-Agustin, Olivia Durocher and Christina Durocher.
Calling hours are at the Douglass Funeral Service in Amherst from 5p.m. to 8 p.m. on Thursday Aug. 4. A Mass of Christian Burial will be at 10 a.m. on Friday Aug. 5, at the Newman Center 472 North Pleasant St. in Amherst followed by burial in the South Amherst Cemetery.  Note that a reception will follow at the Amherst Golf Club.

In lieu of flowers, donations in his name can be made to St. Michael's College, Office of Institutional Advancement, 1 Winooski Park Colchester, Vt. 05439 or Amherst Golf Club, C/O Members' Court, 365 So. Pleasant St. Amherst, Ma. 01002