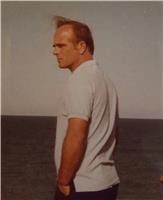 Surrounded by loved ones, Peter H. Bleau died peacefully Thursday, Sept. 29, 2016, at Cooley Dickinson Hospital.
He was born in Ludlow to Henry R. and Elsie Ann Madden Bleau, who preceded him in death. Peter grew up and attended schools in Belchertown. He served proudly in the U.S. Army in Germany and was a lifetime member of the Three Rivers Amvets.
Following an accident in 2003, Peter lived courageously, and to the fullness of his abilities, as a quadriplegic. He was a kind, smart, caring man whose bright blue eyes, winning smile, and warm sense of humor brought him many dear friends. He was always ready to speak up for those less able.
Peter will be missed by many, but most deeply by his son Trevor Bleau (with wife Chantel and their children Bryan, Deryk and Whitney) and by Mary Weidensaul, Peter's best friend, faithful loving partner and devoted caregiver.
Peter also leaves behind his siblings: Linda Bleau Pilsworth (and "ever-lovin' brother-in-law" John) of Montana, Richard Bleau (Carol) of North Carolina and Michael Bleau of Connecticut.
Golf was Peter's passion and he was a longtime member of Amherst Golf Club, where he is remembered as the "Super Sub" who helped Amherst win their first Amherst Cup. Pete Bleau's Birthday Scramble became a popular annual event in July at the club.
Calling hours will be held on Thursday, Oct. 6 from 5 to 7 p.m. at the Beers & Story Belchertown Funeral Home. In lieu of flowers, donations may be made in his memory to the West Roxbury VA Spinal Cord Injury SCI Center, 1400 VFW Parkway, West Roxbury, MA 02132. For more information please visit www.beersandstory.com.
MUST READ – THANK YOU note to all of Peter Bleau's friends at the Amherst Golf Club – from Mary Weidensaul